Our company has had many years of experience in the transport and tourism industry. For many years we have been meeting the highest demands of our customers giving them perfectly prepared vehicles which ensure comfort even on very long routes. Our fleet is equipped with busses, minibuses and vans so that everyone interested in renting a vehicle will find something suitable for them. We have also had many years of experiences in handling individual customers – Standard Service (renting a car with a driver), transfers to the airport and the driven car trips are no problem for us! Our well equipped limousines will surprise every one of our customers!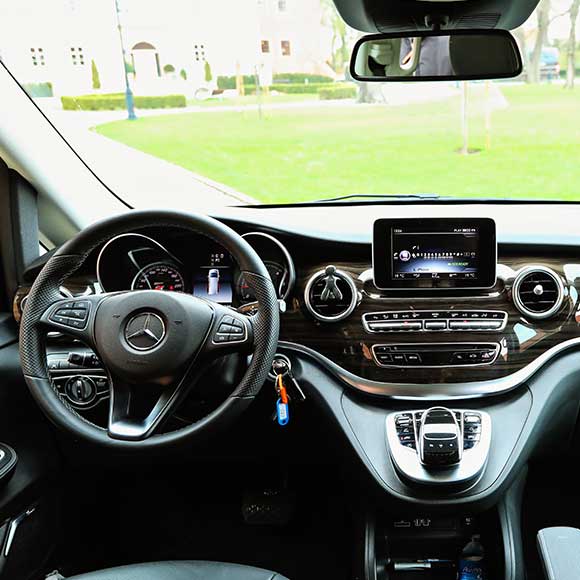 Why is it worth cooperating with us?
We have many years of experience
Our extensive experience helps us fully meet the needs of our customers. Thanks to the developed standards, we offer transport services at the highest level.
We specialize in domestic and foreign transport
We operate in a comprehensive way. We offer both domestic and international transport.
We guarantee reliability and safety
Security in the transport industry is extremely important, so we attach particular importance to it. Our team includes experienced drivers and our vehicles are regularly serviced and checked. Our fleet consists exclusively of Mercedes vehicles.
We provide excellent equipment of our vehicles
Our vehicles are equipped in such a way that the journey can take place in comfortable conditions. We provide a coach toilet, seat safety belts for every passenger, adjustable seats and air-conditioned interior.
We employ the best drivers only
Taking care of your safety, we employ the best and experienced drivers who are characterized by mastery and high personal culture.
Buses, minibuses and vans rental – who is the target?
Our offer is addressed to all the customers who need professional transport. We serve both large and small groups. Regardless of whether you need an organized group transport, transport for your company's employees, or the transport the other event – we are at your disposal!
Offer for organised groups:
Offer for companies:
trips to trainings and conferences
Occasional events:
transports of guests to wedding ceremonies and wedding parties

transport to birthday parties, baptisms
We provide comfort and safety
In order to provide our customers with absolute safety, we equip our fleet with high-class vehicles only. All our buses, minibuses and vans are regularly checked and controlled for their technical efficiency. Thanks to that, we can be sure that we guarantee safety and peaceful reaching of their destinations for our passengers. The drivers have many years of experience on many European routes. Our staff cares for the cleanliness of vehicles and provides comfort and pleasant journey to the clients who decide to cooperate with our company!
We are at your disposal
Customer Service: (48) 533 604 704
Copyright 2013 Cab4U. All rights reserved.
Cab4U provides services connected with individual road transport for discriminating customers. What is more, we are not pricey. We are at your disposal twenty-four hours a day, and seven days a week. We are flexible and able to adjust our services to Your individual needs. Our vehicles are kept in excellent technical condition. Our professionally trained chauffeurs spare no effort to make Your journey safe and pleasurable.